Photo Credit: Dave Biro
KNOXVILLE, IA (June 29, 2018) – Picking up where he left off last August, Donny Schatz returned to victory lane Friday night at Knoxville Raceway for the World of Outlaws Brownells Big Gun Bash.
After winning the Sears Craftsman Dash, Schatz led the 24-car field to the green flag from the pole position. The 10-time Knoxville Nationals champion grabbed the early lead over fellow front row starter and Knoxville regular, Lynton Jeffrey.
The first caution was displayed on lap three, which bunched the field back up for the ensuing double file restart. As the race resumed, Schatz and Jeffrey made contact on the front straightaway, which sent Jeffrey into a wild series of flips in turn one. Jeffrey climbed from his mangled machine unharmed.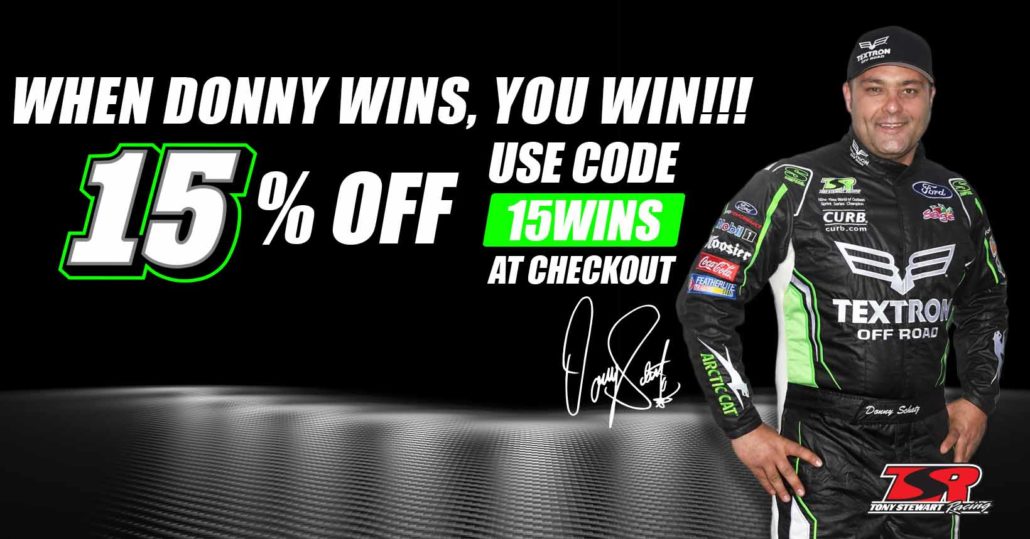 Schatz showed the way once again as the green flag waved. The driver of the Textron Off Road / Tony Stewart Racing No. 15 checked out from the field almost immediately as a torrid battle for second through fifth broke out behind him.
Schatz extended his lead through lapped traffic and cruised to the checkers by a margin of 3.809 seconds over Ian Madsen.
The first thing Schatz did in victory lane was get on the wing and throw up the 41 in honor of Jason Johnson.
"These guys are incredible at what they do," said Schatz in victory lane of his Tony Stewart Racing team. "I'm just lucky to drive it. Tonight, was probably one of the first nights I've ever asked myself – when I put the suit on – 'Why?' Once I fired the car, everything made sense. This is what I love to do and what everyone out here loves to do. Thank you to all the fans, racetrack, everybody. It was a very shocking week, but I'm glad to be standing here now. Words can't describe it."
An emotional tribute to the late Jason Johnson was played during opening ceremonies and there was a 41-second moment of silence. In addition, the missing man formation was displayed before the feature.
Schatz will be back in action tonight at Knoxville Raceway for night two of the Brownells Big Gun Bash. Entering the night, Schatz holds a 100 point lead over Brad Sweet atop the World of Outlaws point standings behind his series-leading 12 wins, 23 top fives and 29 top 10s through the first 31 events of the season.
Live video will be provided by TheCusion.com and DirtVision.com. DirtVision will also have free live audio.
——————
Media Contact:
Mike Spieker
SpiekerPromotions.com
spiekerpromotions@gmail.com