Photos by Speedway Shots
GRAND FORKS, N.D. (August 17, 2018) – For the third time in his career, Donny Schatz, claimed both the World of OutlawsCraftsman Sprint Car Series and Northern Late Model Racing Association wins at River Cities Speedway on the same night.
Schatz started fifth on the grid for the 40-lap A-main event. In a race that was plagued by both red flags and cautions, Schatz patiently worked his way up the running order before contending for the lead at the halfway point.
After getting by Sheldon Haudenschild for third on a restart, Schatz set his sights on Brad Sweet for the lead. Schatz reeled in Sweet on lap 25 before they traded slide jobs for the point for two consecutive laps.
Entering turn one on lap 27, Sweet looped his No. 49 machine on his own to bring out a caution. Schatz inherited the lead for the ensuing restart with Haudenschild in tow.
Seventeenth place starter and the all-time wins leader at River Cities Speedway, Mark Dobmeier, made a late race charge into the second position with under 10 to go. The final caution flew with four laps remaining. The restart set up what looked to be a classic duel between two of North Dakota's best Sprint Car drivers to fight it out for the win.
As the race resumed, Schatz quickly bolted out to a five car length lead. Dobmeier distanced himself from the rest of the pack as well, but could never reel in Schatz. The nine-time and defending World of Outlaws driver went on to collect his 11th career win at River Cities in front of a capacity crowd.
"I'm just a lucky guy. To drive for the best guys in the pit area, the best owner in the country and the people that build these cars. They stand behind us through thick and thin. Mark [Dobmeier] had a good run, I saw the 13 on the board and I thought, oh boy, here we go. He's pretty good around here," Schatz said of his fellow North Dakota native.
"Lapped traffic definitely made your hair stand up tonight, we might not have been the best car tonight, but I'm glad we could get it done in Grand Forks," concluded Schatz.
Schatz, who most recently won with the NLRA Late Models at Nodak Speedway in Minot, started on the outside of the front row before collecting his seventh career win with the series.
Brad Seng led the opening laps as Schatz and Mike Balcaen battled for the runner-up spot. Schatz shot from third to the lead on lap four, but Balcaen used the low side of the speedway to take the lead on the following circuit.
Schatz ran behind Balcaen until lap 10 when he placed a successful bid for the lead amid lapped traffic.
"When you roll into the gates, it's your goal to win to win both races," said Schatz of running both the Late Model and Sprint Car on the same night. "When you can get back to a track close to home, and run two different cars that have two different feels, and put yourself in a position to be competitive in both… I'm damn proud of that. Especially to have been able to do that three times here. I've got great people surrounding me. I'm enjoying it while I can and will do it as long as I can."
Schatz and the entire Tony Stewart Racing team would like to thank Textron Off Road, Ford Performance, Curb Records, Sage Fruit and J&J Auto Racing for their continued support.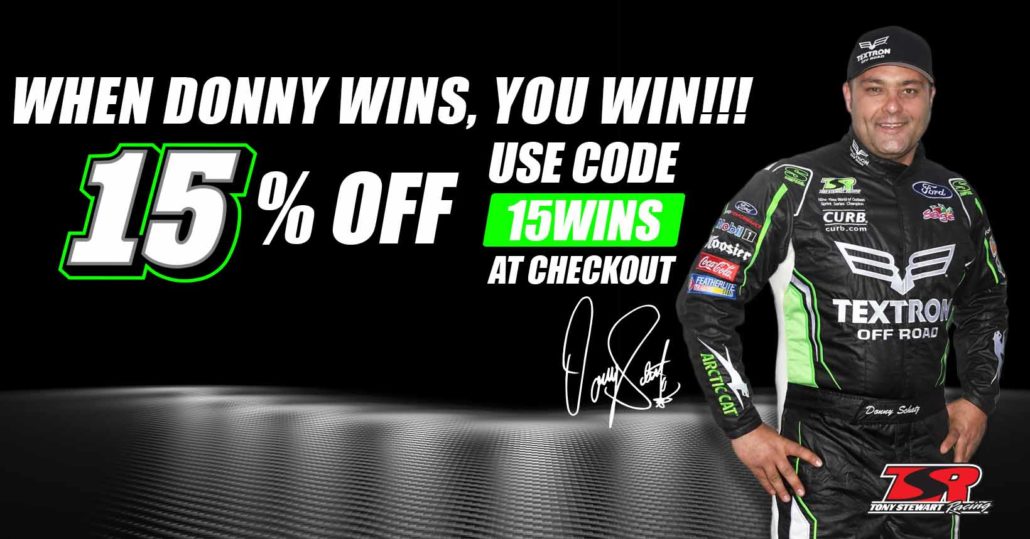 STAY CONNECTED:
Website: DonnySchatz.com
Facebook: www.facebook.com/DonnySchatz15/
Twitter: www.twitter.com/DonnySchatz
Instagram: www.instagram.com/donnyschatz/
Tony Stewart Racing:
Website: TonyStewartRacing.com
Facebook: www.facebook.com/TonyStewartRacing
Twitter: www.twitter.com/TonyStewart_Rcg
Instagram: www.instagram.com/tonystewart_rcg/
2018 World of Outlaws Stats:
Races: 46
Wins: 16
Top Fives: 35
Top Tens: 44
————————
Contact:
Mike Spieker
SpiekerPromotions.com
spiekerpromotions@gmail.com