Photo Credit: Trent Gower
FARGO, N.D. (October 29, 2018) – Donny Schatz cashed in on one of the biggest paydays of the year for the World of Outlaws Craftsman Sprint Car Series on Sunday afternoon after winning the $51,000 Tuscarora 50 at Port Royal Speedway in Pennsylvania.
Given the unique format of the Tuscarora 50, only World of Outlaws show-up points were awarded. Due to that, Schatz's 278 point advantage over Brad Sweet atop the point standings remained unchanged. Schatz merely has to take the green flag at one of the two World Finals events this weekend at The Dirt Track at Charlotte to claim his 10th series championship.
After both Friday and Saturday night's events were washed out due to rain, a stout field of 51 teams were checked in at the big semi-banked half-mile for the Sunday afternoon matinee. Track record speed was seen during time trials, but the track began to slick off towards the end of the night, which made for a racy main event.
Schatz started fifth on the grid for the 50-lap feature and ran third at the mandatory fuel stop on lap 21. The nine-time and defending World of Outlaws champion moved by Lucas Wolfe on the restart and set his sights on Brad Sweet for the lead.
With lapped traffic looming ahead, Schatz reeled in Sweet and placed a bid for the lead in turn one with 19 circuits remaining. The driver of the Textron Off-Road Wildcat XX completed a textbook slide job exiting turn two to take command.
Once out front, Schatz checked out from the rest of the field as he cruised to his 21st victory of the season and third career triumph at Port Royal.
"It felt like a 500-miler," said Schatz of the 50-lap race that was plagued with cautions. "I would love to tell you that this Wildcat XX machine is badass, but it's really the guys that work on it. These guys are incredible at what they do.
"We decided we better start testing out the 2019 rule changes and since we've done that, we haven't finished worse than second and that's really important," added Schatz. "Those changes are really going to affect how these cars handle so I'm glad we've got a good handle on it."
The World Finals at the Dirt Track at Charlotte will kick off on Thursday with two rounds of World of Outlaws Craftsman Sprint Car Series time trials, which will determine heat race lineups for Friday and Saturday night's programs.
Hot laps begin at 5:00pm (eastern time) on Thursday. Friday and Saturday night's events begin at 4:45pm. Free live audio or pay-per-view video can be found at DirtVision.com.
Schatz and the entire Tony Stewart Racing team would like to thank Textron Off Road, Ford Performance, Curb Records, Sage Fruit and J&J Auto Racing for their continued support.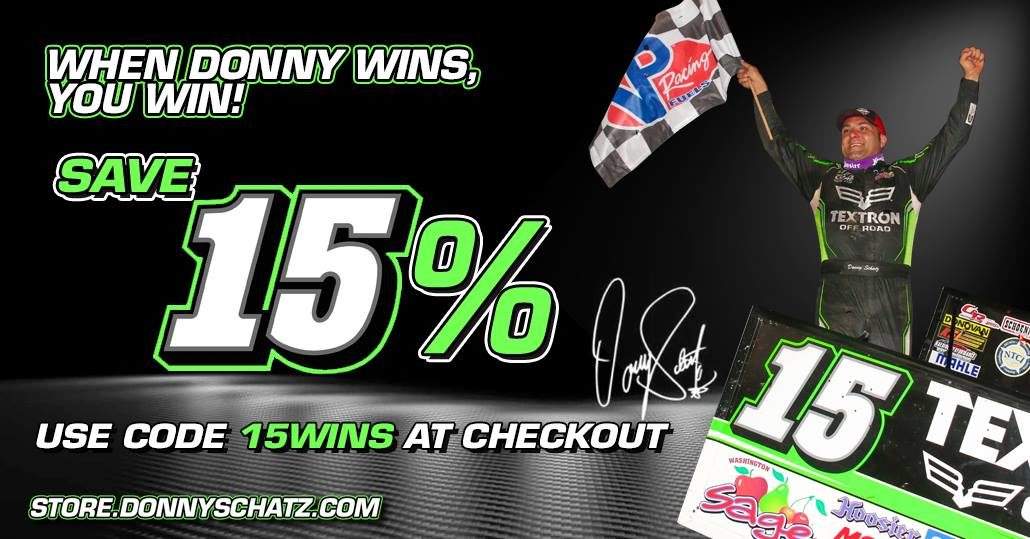 Quick Results:
10/28/18 – Port Royal Speedway:
Qualifying: 7th (Flight A); Heat: 1st; A-Main Start/Finish: 5th/1st
STAY CONNECTED:
Website: DonnySchatz.com
Store: Store.DonnySchatz.com
Facebook: www.facebook.com/DonnySchatz15/
Twitter: www.twitter.com/DonnySchatz
Instagram: www.instagram.com/donnyschatz/
Tony Stewart Racing:
Website: TonyStewartRacing.com
Facebook: www.facebook.com/TonyStewartRacing
Twitter: www.twitter.com/TonyStewart_Rcg
Instagram: www.instagram.com/tonystewart_rcg/
2018 World of Outlaws Stats:
Races: 69
Wins: 21
Top Fives: 51
Top Tens: 64
————————
Contact:
Mike Spieker
SpiekerPromotions.com
spiekerpromotions@gmail.com