Photo Credit: Michael Fry
CHARLOTTE, N.C. (November 1, 2018) – The World of Outlaws Craftsman Sprint Car Series season comes to a close this weekend with the World Finals at the Dirt Track at Charlotte. Coming off a $51,000 payday Sunday afternoon at Port Royal Speedway, Donny Schatz will look to secure his 10th series championship.
Coming in with a 278 point advantage over Brad Sweet, Schatz merely has to take the green flag at one of the two events this weekend to lock up the title.
In addition to running his Sprint Car, Schatz will also be competing with the World of Outlaws Craftsman Late Models. Schatz has competed in 11 Late Model events in 2018, collecting three wins with the Northern Late Model Racing Association (NLRA). In his last six starts behind the wheel of the Petro Stopping Centers / Fastlane Car Wash No. 15 Late Model, Schatz hasn't finished worse than fifth in NLRA and Northeast Ultimate Late Model competition.
Schatz has four World of Outlaws Late Model starts this season, all at Volusia Speedway Park during the DIRTcar Nationals.
Schatz has had a stout track record at the Dirt Track at Charlotte since the facility opened in 2000. The Fargo, N.D. driver has compiled 11 wins at the semi-banked four-tenths mile clay oval and has won three of the last five events.
Last year, Schatz closed out his 2017 championship campaign by winning the opening night of the World Finals and finishing second in the Saturday night finale. The driver of the Tony Stewart Racing No. 15 is the most recent World of Outlaws winner at the speedway with his win earlier this season on May 24th.
APPEARANCE ALERT: Donny Schatz will appear at Stewart-Haas Racing on Friday, Nov. 2 from 11 AM – 12 PM ET.
Stop by to meet the Nine-Time Outlaw Champion and Charlotte Motor Speedway mascot, Lug Nut! The SHR gift shop will also be open and offering a 15% discount to anyone presenting a signed Donny Schatz hero card!
Address: 6001 Haas Way, Kannapolis, NC 28081
Previous Results at the Dirt Track at Charlotte:
World of Outlaws Craftsman Sprint Car Series:
2018 – 1st on May 25
2017 – 4th on May 26; 1st on Nov. 3; 2nd on Nov. 4
2016 – 5th on May 27; 3rd on Oct. 28; 1st on Oct. 29
2015 – 1st on May 22; 6th on Nov. 6; 8th on Nov. 8
2014 – 2nd on May 23; 13th on Nov. 7; 4th on Nov. 8
2013 – 12th on May 24; 1st on Nov. 8; 3rd on Nov. 9
2012 – 2nd on May 25; 6th in the B on Nov. 2; 25th on Nov. 3
2011 – 3rd on May 28; 1st on Nov. 5; 1st on Nov. 6
2010 – 1st on May 29; 4th on Nov. 5; 7th on Nov. 6
2009 – 3rd on May 22; 2nd on Nov. 6; 6th on Nov. 7
2008 – 6th on May 23; 2nd on Oct. 31; 1st on Nov. 1
2007 – 1st on May 25; 2nd on Nov. 2; 4th on Nov. 3
2006 – 5th on May 24
2003 – 8th on May 24
2002 – 23rd on May 24; 3rd on May 25; 22nd on Oct. 11; 21st on Oct. 12
2001 – 6th on May 25; 3rd on May 26; 3rd on Oct. 5; 2nd on Oct. 6
2000 – 4th on May 25, 20th on May 26, 1st on Oct. 5, 3rd on Oct. 6
World of Outlaws Craftsman Late Model Series:
2017 – 3rd in the LCS on Nov. 4; 7th in the LCS on Nov. 3
2016 – 15th on Oct. 29; 15th on Oct. 28
2015 – 7th in the LCS on Nov. 8; 11th on Nov. 7
2014 – 9th on Nov. 8; 15th on Nov. 7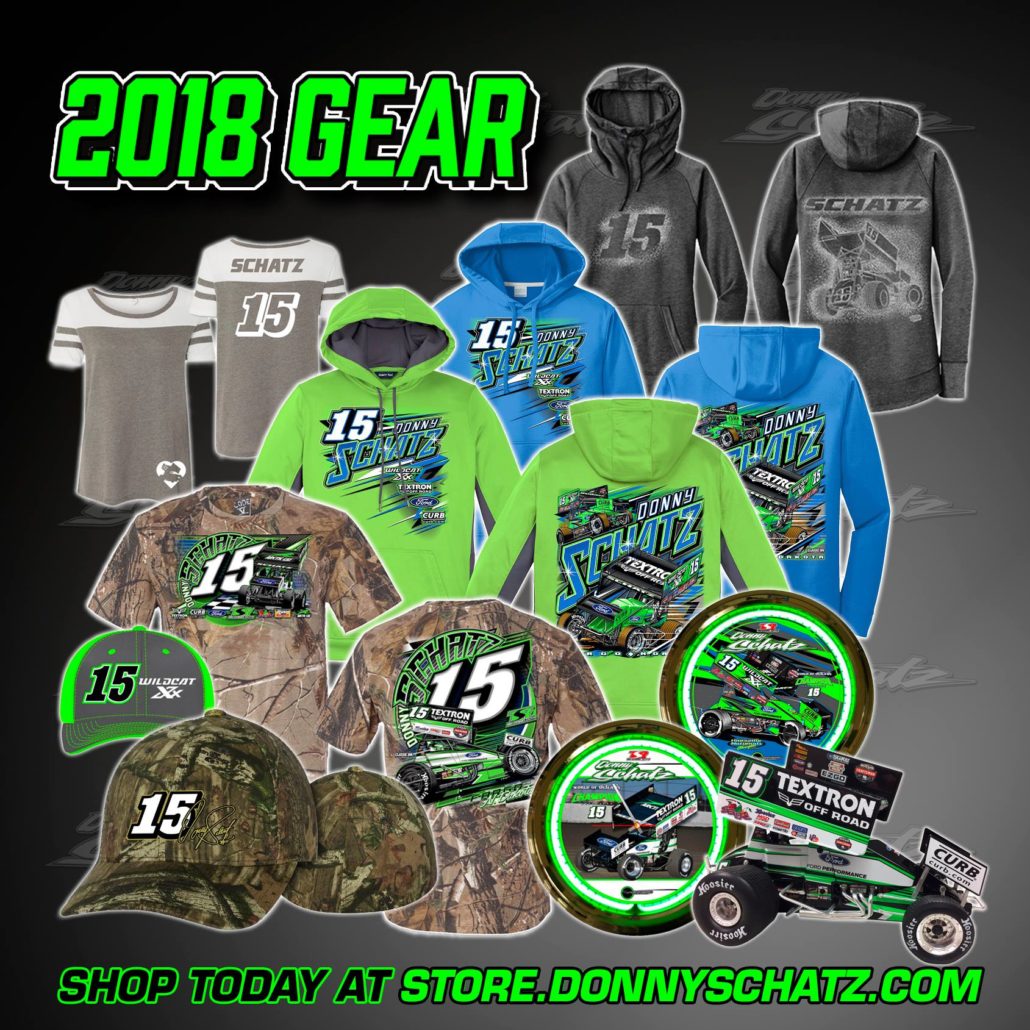 STAY CONNECTED:
Website: DonnySchatz.com
Store: Store.DonnySchatz.com
Facebook: www.facebook.com/DonnySchatz15/
Twitter: www.twitter.com/DonnySchatz
Instagram: www.instagram.com/donnyschatz/
Tony Stewart Racing:
Website: TonyStewartRacing.com
Facebook: www.facebook.com/TonyStewartRacing
Twitter: www.twitter.com/TonyStewart_Rcg
Instagram: www.instagram.com/tonystewart_rcg/
2018 World of Outlaws Stats:
Races: 69
Wins: 21
Top Fives: 51
Top Tens: 64
————————
Contact:
Mike Spieker
SpiekerPromotions.com
spiekerpromotions@gmail.com