Photo Credit: Michael Fry
CHARLOTTE, N.C. (November 4, 2018) – The World of Outlaws Craftsman Sprint Car Series schedule is one that is long and grueling. When it finally comes to an end, there is no better way than going into the offseason with a win. That's exactly what Donny Schatz and the Tony Stewart Racing team did Saturday during the World Finals at the Dirt Track at Charlotte.
Schatz drove from the 10th starting position to claim his 22nd win of the season and 12th career win at the semi-banked four-tenths-mile oval.
"It was a great race. My car just kept getting better and better. Hats off to his whole Textron Off Road team," said an elated Schatz in victory lane. "These guys are awesome. I'm the hardest guy to work for in the pits because if the car isn't perfect, I'm not very nice. They did an incredible job to get the car to work better later in the race. I think those yellows might have helped us."
Schatz used the first half of the race to move towards the front, taking the second position from Logan Schuchart on lap 15 of the 30-lap main event. The now 10-time World of Outlaws champion then went to work on Carson Macedo for the lead.
Macedo had a somewhat comfortable lead with eight laps to go when a right rear tire let go on the Kyle Larson Racing No. 22, forcing him into the outside wall and out of the race. Schatz inherited the lead for the ensuing restart with Schuchart in tow.
Schatz jumped out to a five car length lead, but Schuchart came back to place a bid for the lead with two laps to go. Schuchart momentarily took the lead with a slide job in turns one and two, but Schatz reclaimed the point in turn four.
Schatz held off Schuchart on the final lap to secure his 283rd career World of Outlaws win.
"It seemed like after the yellow with seven to go, my car was awesome," added Schatz. "I thought it was going to take a long stretch for somebody to go by and there went the 1S (of Schuchart). Luckily I didn't make too many mistakes and got myself back going again."
The final points show Schatz with a 286 point advantage over Brad Sweet for his fifth consecutive championship and sixth in the last seven years.
"It's pretty cool and hard to put into words. I look up to my hero (Steve Kinser) and he won 20 of them," said Schatz. "It doesn't seem like we've hardly scratched the surface. I'm just very proud of the organization Tony Stewart has and all of the people and what they do day in and day out to put us in this position."
Schatz and the entire Tony Stewart Racing team would like to thank Textron Off Road, Ford Performance, Curb Records, Sage Fruit and J&J Auto Racing for their continued support.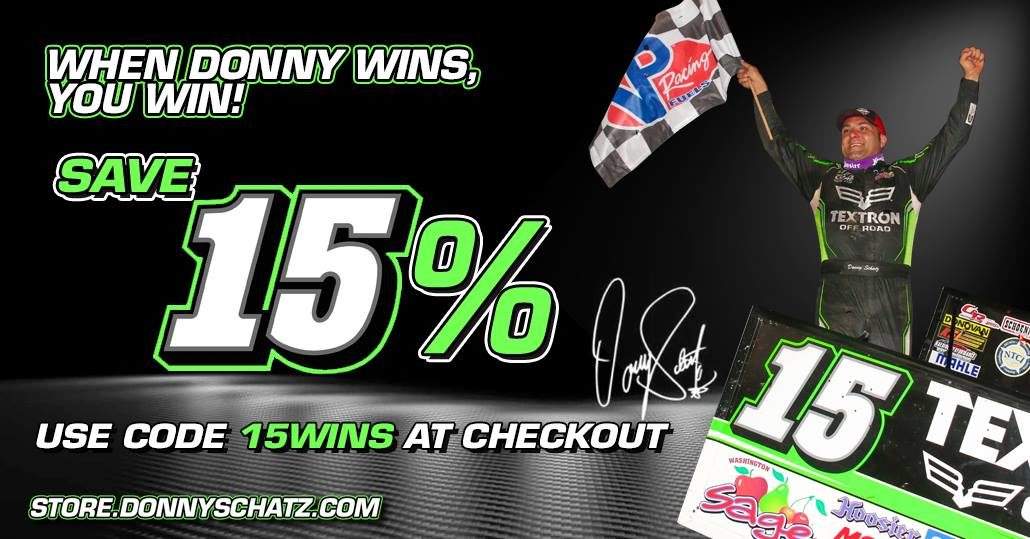 STAY CONNECTED:
Website: DonnySchatz.com
Store: Store.DonnySchatz.com
Facebook: www.facebook.com/DonnySchatz15/
Twitter: www.twitter.com/DonnySchatz
Instagram: www.instagram.com/donnyschatz/
Tony Stewart Racing:
Website: TonyStewartRacing.com
Facebook: www.facebook.com/TonyStewartRacing
Twitter: www.twitter.com/TonyStewart_Rcg
Instagram: www.instagram.com/tonystewart_rcg/
2018 World of Outlaws Stats:
Races: 71
Wins: 22
Top Fives: 52
Top Tens: 66
————————
Contact:
Mike Spieker
SpiekerPromotions.com
spiekerpromotions@gmail.com