Photo Credit: Matthew Paul Photography
By Mike Spieker
BRISBANE, Queensland (January 5, 2019) – Donny Schatz added to his illustrious rèsumè Saturday night at Archerfield Speedway as he charged to his ninth World Series Australian Sprintcar Open win.
Schatz rolled off on the outside of the front row for the 50-lap, $20,000-to-win main event with fellow World of Outlaws competitor, Logan Schuchart, to his inside on the pole. Schuchart took the lead at the drop of the green flag as Schatz settled into second, while Kerry Madsen ran in the third spot.
Schatz patiently rode in the runner-up position until he placed a bid for the lead on lap 21. The 10-time World of Outlaws champion successfully maneuvered past Schuchart to take the point and raced the remaining 29 laps relatively unchallenged en route to capturing the checkered flag.
A late race caution reset the field and put Schuchart and Madsen within striking distance of Schatz on the restart, but the Fargo driver was able to fend off their charges as the race resumed.
"This trophy will look fantastic in the trophy room at home. The Australian Open is always a tough race to win and you appreciate it when you do," Schatz said in an interview with the World Series Sprintcars. "I'm just so fortunate to get to do this with great people and experience so many highlights in my career, and I'm looking forward to Wednesday when we get to do it again."
A turning point in the night for Schatz came in his final heat. The driver of the Raw Metal Corp / American Racer No. 15 cruised from the fifth row to win the 10-lap heat, raising him to the provisional number one qualifying spot. Schuchart would go on to claim the pole position by besting Schatz in the Gold Shootout, relegating him to the outside of the front row for the start of the feature.
The feature win for Schatz was his 26th with the World Series Sprintcars, which breaks a tie with the late Jason Johnson for third on the all-time wins list. Ahead on the wins list is Brooke Tatnell and Max Dumesny with 77 and 53 victories, respectively.
Schatz's six-race Australia tour will come to a close on Wednesday, January 9th at Archerfield with the Word Series Sprintcars.
When Donny wins, YOU WIN! Save 15% at store.donnyschatz.com through Monday, January 7th!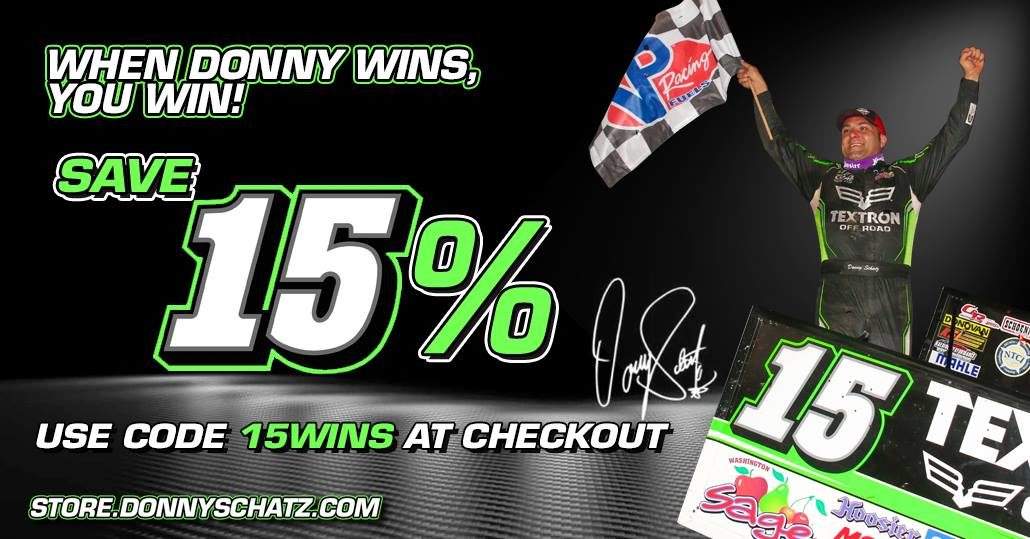 2018-19 Archerfield Speedway Stats:
Races: 5
Wins: 3
Top Fives: 4
Top Tens: 4