Photo Credit: Speedway Shots
FARGO, N.D. (May 15, 2019) – Donny Schatz raced to his 15th career Eldora Speedway win Friday night with the World of Outlaws NOS Energy Drink Sprint Car Series. Schatz led all 30 trips around the famed high-banked half-mile oval, but had a challenger early on in Carson Macedo.
Macedo, who won the second of two Dirt Vision Fast Pass Dashes, lined up alongside fellow dash winner Schatz on the front row for the main event. Schatz grabbed the lead on the opening lap using the low side of the speedway, but Macedo came charging back on lap two with a slide job in turn two. Schatz was able to cross underneath the Kyle Larson Racing No. 2 to regain the lead in turn three.
The 10-time and defending World of Outlaws champion then checked out from the rest of the field until a hard-charging Logan Schuchart came up to threaten Schatz for the lead in the closing stages. Schuchart cut Schatz's once comfortable lead down to less than a second, but Schatz was able to secure the win with some key moves in lapped traffic.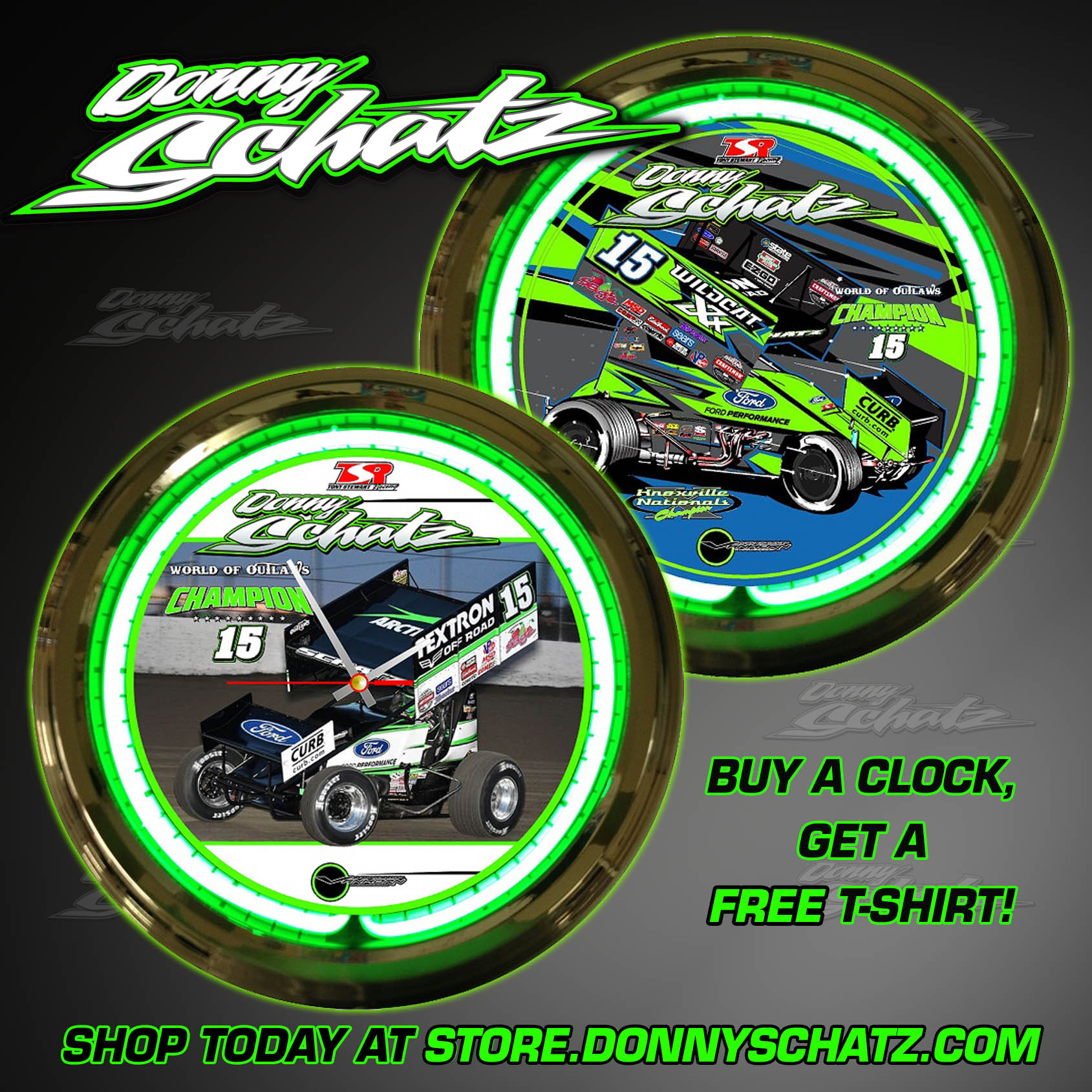 "I'm just glad to be standing here," said Schatz in victory lane after the race. "These Tony Stewart Racing guys have been digging and digging trying to get this car stuck the right way for me. A couple of weeks ago we came on to a few things and in the dash and feature the car felt really good. Hats off to this whole Toco team. It feels good to be back in victory lane."
Saturday's finale of the #LetsRaceTwo event was postponed due to rain following the first World of Outlaws heat race. The event has been rescheduled to Wednesday, July 17th.
Up next, the World of Outlaws return to action tonight to take on the Pennsylvania Posse at Lincoln Speedway. In 10 previous starts at the four-tenths mile oval, Schatz has one career win which came on May 19, 2016 where he led all 35 laps. In his past three starts at Lincoln, Schatz has an average finish of 3.
Entering tonight's action, Schatz currently sits as the series point leader 14 markers up on Brad Sweet.
Schatz's Statbook:
2019 Stats (World of Outlaws):
Races: 14
Wins: 2
Top Fives: 10
Top Tens: 14
Previous Results at Lincoln Speedway
2018 – 4th on July 19 (started 11th)
2017 – 4th on May 17 (started 15th)
2016 – 1st on May 19 (started on the pole; lead all 35 laps)
2015 – 15th on May 13 (started 25th)
2014 – 6th on May 14 (started 4th); 14th on July 17 (started 19th)
2013 – 2nd on May 16 (started 3rd)
2012 – 7th on May 10 (started 6th)
1998 – 5th in the B Main on May 30
1997 – 20th on May 31
STAY CONNECTED:
Website: DonnySchatz.com
Store: Store.DonnySchatz.com
Facebook: www.facebook.com/DonnySchatz15/
Twitter: www.twitter.com/DonnySchatz
Instagram: www.instagram.com/donnyschatz/
Tony Stewart Racing:
Website: TonyStewartRacing.com
Facebook: www.facebook.com/TonyStewartRacing
Twitter: www.twitter.com/TonyStewart_Rcg
Instagram: www.instagram.com/tonystewart_rcg/
————————
Contact:
Mike Spieker
SpiekerPromotions.com