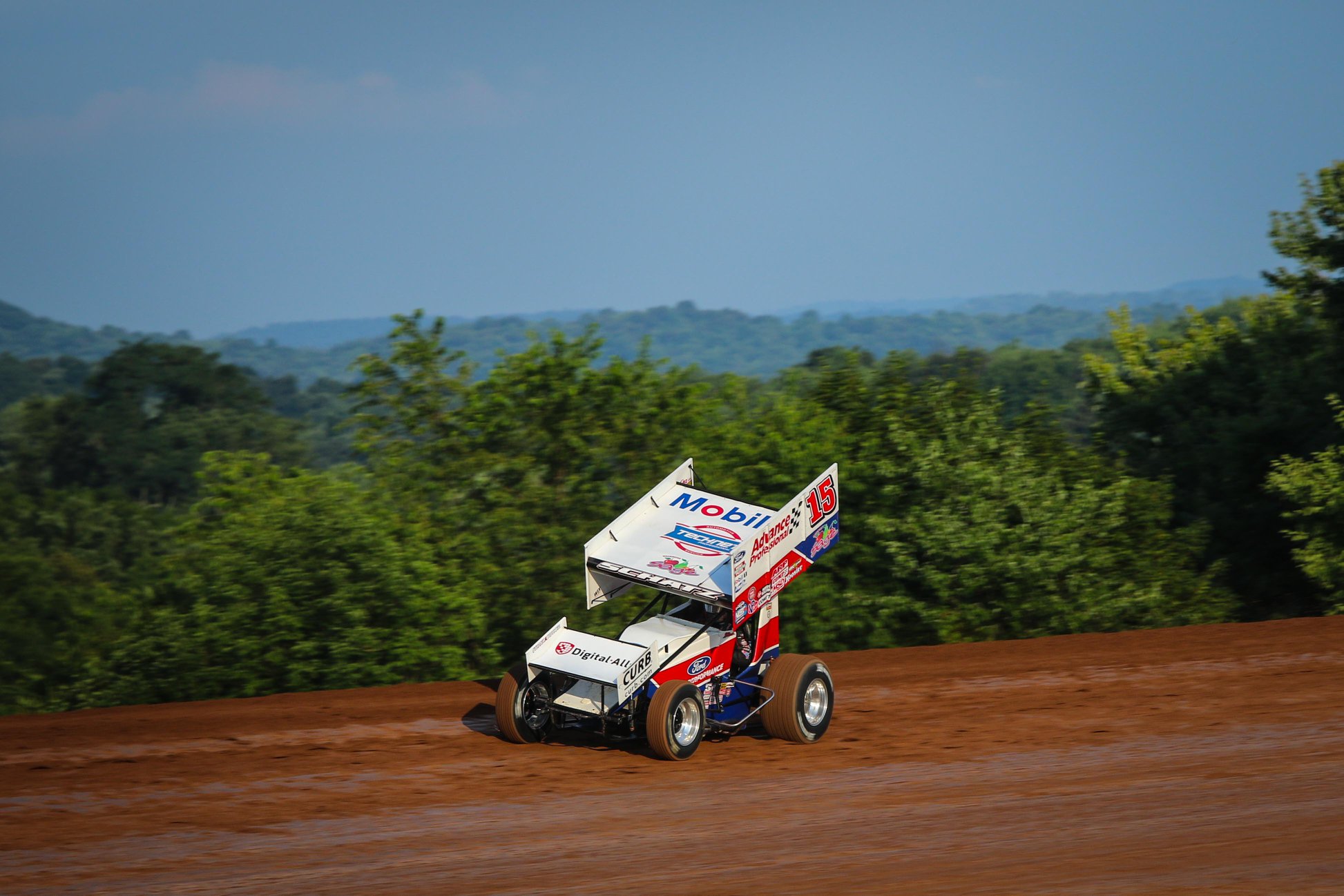 FARGO, N.D. (July 28, 2020) – The World of Outlaws NOS Energy Drink Sprint Car Series made a four-race swing through Pennsylvania last week, taking them to three different tracks.
Donny Schatz started the week off on a high note as he parked his Tony Stewart / Curb-Agajanian Racing No. 15 in victory lane on Tuesday, July 21st at Lernerville Speedway in Sarver, Pa.
The win for Schatz was his third of the season and the 297th of his World of Outlaws career.
"It's awesome to win the Silver Cup for the third win of the season. Normally, we'd like to have a few more at this point, but we aren't going to be greedy. We're just going to keep racing the way we are," said a smiling Schatz in victory lane.
After starting sixth on the grid for the 40-lap, $25,000-to-win main event, Schatz quickly worked his way forward and took third from Carson Macedo on lap three.
Schatz then continued his march forward, taking the lead from Brad Sweet on lap seven. Schatz looked to have the race in hand through the halfway point, but Sweet came charging back to take the lead on lap 28.
The top two drivers in the Outlaws point standings continued to duel as Schatz retook the point on lap 33, but Sweet quickly regained the spot. After falling back to third, Schatz made a late-race rally to not only get by Kyle Larson for second, but take the lead from Sweet with a slide job in one and two on the final lap.
Schatz was able to hold off both Sweet and Larson to pick up the thrilling win.
"Those guys are good. It's fun to race like that," said of his battle with Sweet and Larson. "My crew did a great job. What I think won us that race was figuring out how to run the race track early in the race. I had to start moving around in traffic and I just wasn't that good on the bottom. (Sweet and Larson) were trying to get around the bottom and I was able to carry my speed (up high) in turns three in four.
"This car was awesome. That's Scuba, Brad and Jacob. These guys have been digging, doing everything they can. There is a lot going on behind the scenes here. Obviously, Rick (Warner) and Andy Durham are tweaking on this Ford motor for the fussiest driver in the pit area and they are doing a great job," said Schatz.
With the win, Schatz took the points lead from Brad Sweet by just two markers.
On Thursday, July 23rd, the series made a visit to Lincoln Speedway where Schatz moved from 10th to finish seventh in the main event.
The Outlaws then headed to Williams Grove Speedway in Mechanicsburg, Pa. for the Summer Nationals on Friday and Saturday. Schatz raced to a solid runner-up finish behind Shane Stewart on Friday's Summer Nationals Open. On Saturday, Schatz was running in the second position on lap four when a mechanical failure plagued the Carquest / Advance Professional machine.
Schatz was done for the night and was credited with a 24th place finish.
This week, the World of Outlaws head to Wayne County Speedway in Orrville, Ohio on Friday night and Plymouth Speedway in Plymouth, Ind. on Saturday.
Schatz is currently third in the World of Outlaws standings, 26 points behind leader Brad Sweet.
Schatz and the entire Tony Stewart/Curb-Agajanian Racing team would like to thank all of their great partners for their continued support!
Advance Professional, Carquest Auto Parts, Technet Professional Automotive Service, Ford Performance, Mobil 1, Sage Fruit, Curb Records, Absolute Automation & Security, Hunt Brothers Pizza, Digital Ally, J&J Auto Racing
Schatz's Statbook:
World of Outlaws results:
Races: 27
Wins: 3
Top Fives: 13
Top Tens: 20
STAY CONNECTED:
Website: DonnySchatz.com
Store: Store.DonnySchatz.com
Facebook: www.facebook.com/DonnySchatz15/
Twitter: www.twitter.com/DonnySchatz
Instagram: www.instagram.com/donnyschatz/
Tony Stewart Racing:
Website: TonyStewartRacing.com
Facebook: www.facebook.com/TonyStewartRacing
Twitter: www.twitter.com/TonyStewart_Rcg
Instagram: www.instagram.com/tonystewart_rcg/
————————
Contact:
Mike Spieker
SpiekerPromotions.com
Photo Credit: Speedway Shots