PLYMOUTH, Ind. (September 25, 2020) – Donny Schatz returned to victory lane with the World of Outlaws NOS Energy Drink Sprint Car Series last night at Plymouth Speedway.
The win was Schatz's fourth of the season, the 298th of his career, and his first at Plymouth.
Schatz started second for the 35-lap main event and rode in the third position for the first half of the race. With 20 laps complete, Schatz made his move in traffic to get by second-place runner Gio Scelzi. Just as he did that, leader Sheldon Haudenschild suffered a mechanical failure and brought out the caution.
Schatz inherited the lead for the restart and never looked back.
The 10-time series champion led the remaining 15 circuits around the three-eighths mile oval. Schatz took the checkers with a comfortable 2.019 second lead over Brad Sweet.
"Hats off to Tony Stewart Racing and all the guys. It's quite a challenge trying to wrangle a ton of horsepower. That's what our job is (with the FPS-410 engine). We have a couple of Ford guys with us tonight so glad to get a win in front of them," said Schatz after the race. "These guys kept digging. We know the road to the top and we know the road to the bottom. These guys just keep working. They're trying to get a handle on the horsepower. This is a different combination for tonight. Obviously, everything that's happening is going in the right direction. We are happy about that."
Schatz now sits 88 points behind point leader Brad Sweet with 11 races remaining on the 2020 schedule. Schatz and the CARQUEST Auto Parts team are not giving up on their hopes of another series championship.
"Until that last night is over, anything is possible. It's obviously going to take some sort of luck. But I definitely got lucky tonight," said Schatz. "We'll just see what happens. There've been many nights where everybody wanted to throw their hands in the air and go another direction, but that's not what they're made of. Hats off to my guys, Jakob, Brad, Scuba. They expect to be winning, as do I. When you're not, it's not the funnest thing in the world. Tonight is a good step in the right direction."
With the win, Schatz is two wins away from 300 World of Outlaws victories, but that isn't top of mind right now.
"It's something you try to block out. Yeah, it's going to be cool if it happens, but I count my blessings every day and I'm very fortunate to drive for a great car owner and to be surrounded by great people. You just never know what's going to happen. Tomorrow's not for sure. Hopefully, we can get to that point. We'll take one day at a time and not get too far ahead of ourselves."
The World of Outlaws continue their tripleheader weekend tonight at Wayne County Speedway in Orrville, Ohio before heading to Lernerville Speedway in Pa. on Saturday.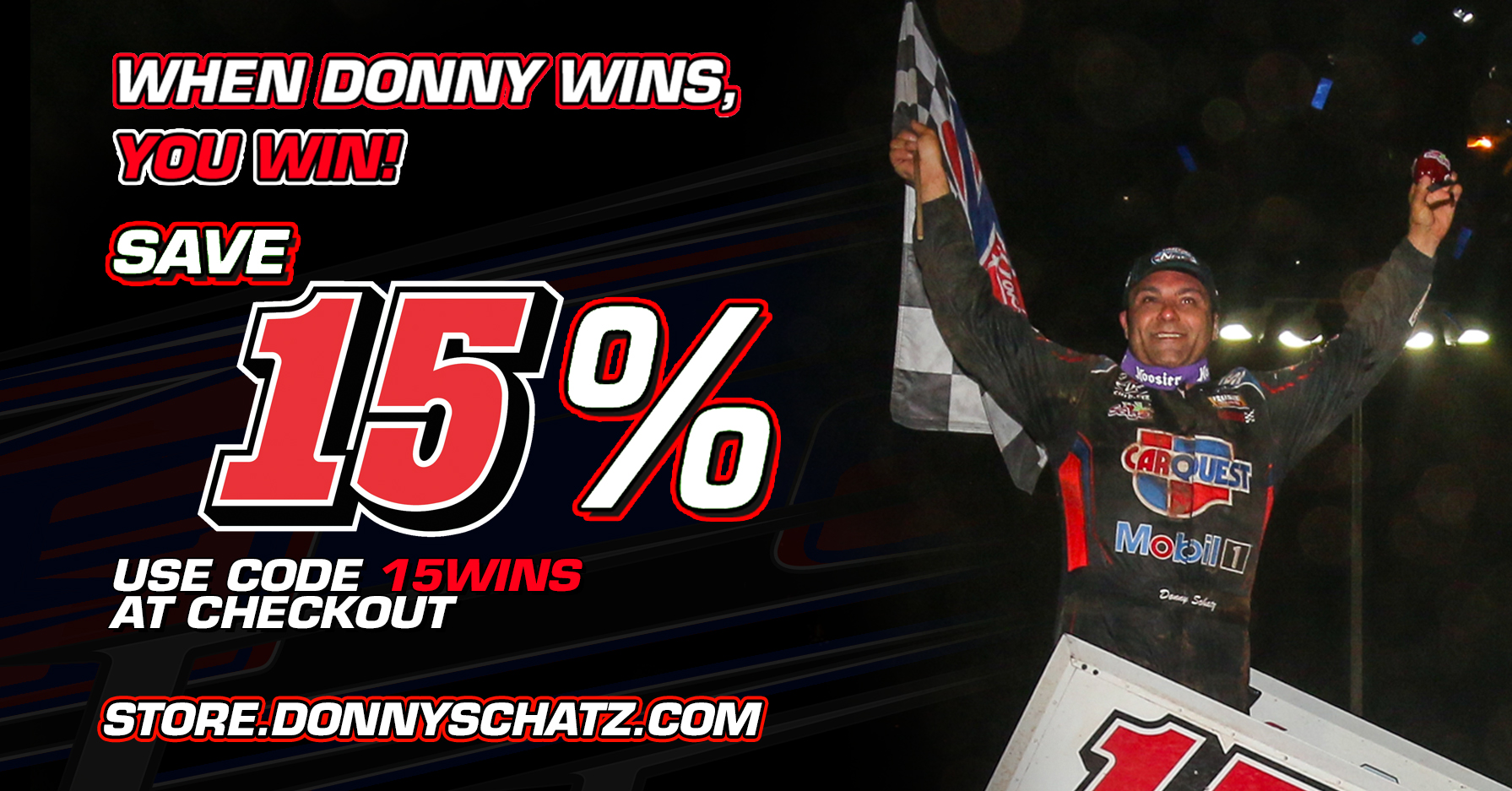 Schatz's Statbook:
World of Outlaws results:
Races: 43
Wins: 4
Top Fives: 19
Top Tens: 33
STAY CONNECTED:
Website: DonnySchatz.com
Store: Store.DonnySchatz.com
Facebook: www.facebook.com/DonnySchatz15/
Twitter: www.twitter.com/DonnySchatz
Instagram: www.instagram.com/donnyschatz/
Tony Stewart Racing:
Website: TonyStewartRacing.com
Facebook: www.facebook.com/TonyStewartRacing
Twitter: www.twitter.com/TonyStewart_Rcg
Instagram: www.instagram.com/tonystewart_rcg/
————————
Contact:
Mike Spieker
SpiekerPromotions.com