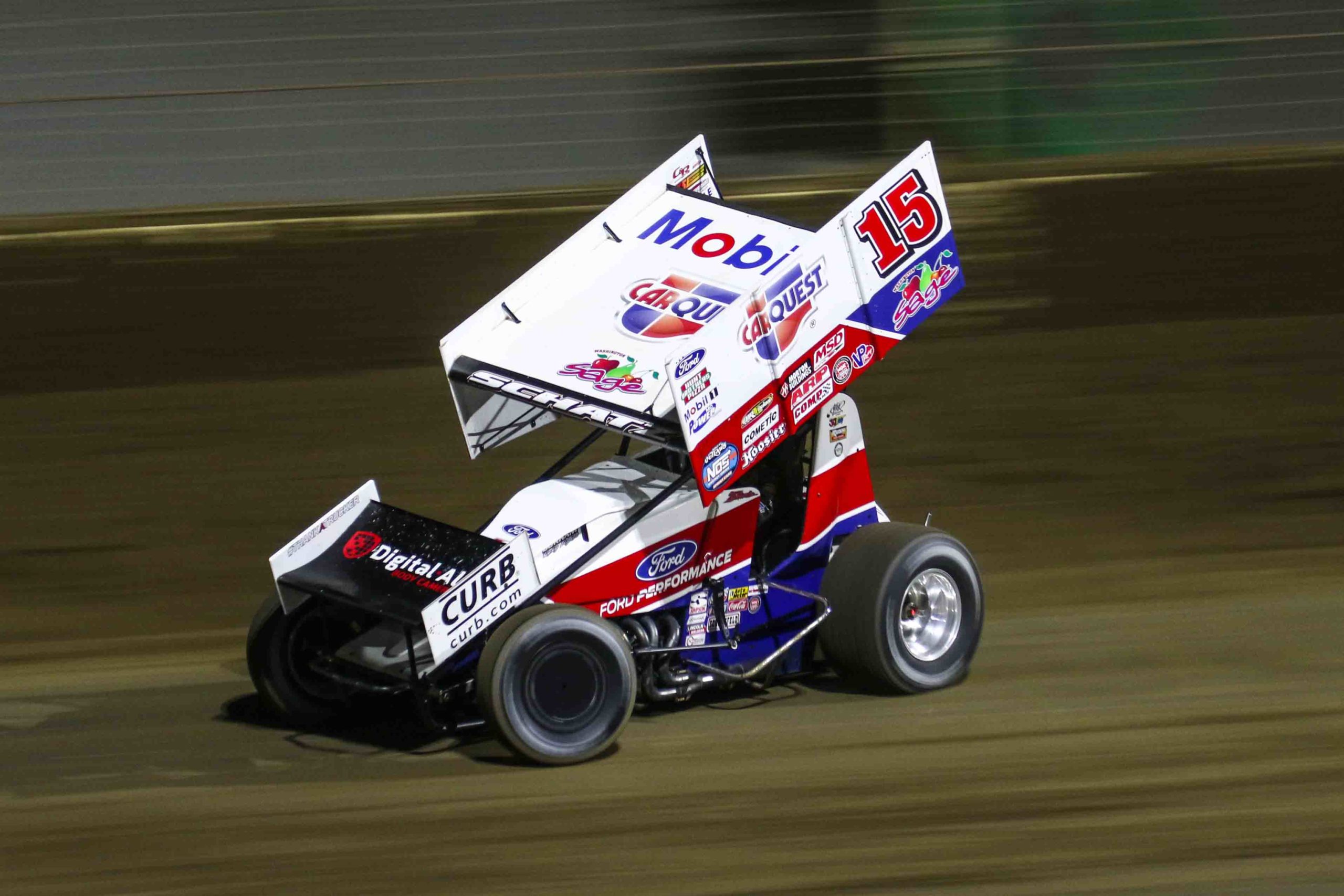 FARGO, N.D. (October 26, 2020) – Donny Schatz picked up his 23rd top five finish of the 2020 season last Saturday night at Kokomo Speedway in Indiana. The driver of the Tony Stewart / Curb-Agajanian Racing No. 15 was strong all night, picking up second place finishes in his qualifying group and heat race, as well as the DIRTVision Fast Pass dash.
The 10-time World of Outlaws champion started second for the 40-lap main event and ran behind pole sitter Sheldon Haudenschild early on.
Schatz grabbed the lead on lap nine and set sail on the rest of the field.
Cautions around the midway point were the only thing that could keep the rest of the field close to the Carquest Auto Part / Ford Performance machine.
On a restart on lap 23, Haudenschild went toe-to-toe with Schatz in a battle for the lead. Haudenschild was able to reclaim the position on lap 25 as Schatz remained within two car lengths.
Haudenschild eventually found his groove up on the fast, but treacherous cushion and began to pull away.
Haudenschild went on to claim the win as Schatz crossed the line in second.
"He was a little better than we were," said Schatz of Haudenschild after the race. "He made the top in turns one and two work. I wasn't gonna do it. It was up on the fence and it just wasn't me. I tried to make something else work and he got the best of us on that. That's what it took for him to get the win.
"Hats off to my guys. They've found a good balance and we know the things we need to do to make the car better at the end. I'm happy about that. This year is almost over but there are still a couple of races to be won. We'll do our best to try to get them."
With Logan Schuchart finishing third, Schatz was able to chip two points out of Schuchart's cushion in the point standings. Schatz sits third in the standings with two races remaining – 64 points behind leader Brad Sweet and 18 behind second-place Schuchart.
After an off weekend this week, the 2020 World of Outlaws season will conclude at the Dirt Track at Charlotte with the running of the two-night Last Call on Nov. 6-7.
Schatz and the entire Tony Stewart/Curb-Agajanian Racing team would like to thank all of their great partners for their continued support!
Advance Professional, Carquest Auto Parts, Technet Professional Automotive Service, Ford Performance, Mobil 1, Sage Fruit, Curb Records, Absolute Automation & Security, Hunt Brothers Pizza, Digital Ally, J&J Auto Racing.
View photo gallery from Kokomo Speedway.
Schatz's Statbook:
World of Outlaws results:
Races: 52
Wins: 5
Top Fives: 23
Top Tens: 41
STAY CONNECTED:
Website: DonnySchatz.com
Store: Store.DonnySchatz.com
Facebook: www.facebook.com/DonnySchatz15/
Twitter: www.twitter.com/DonnySchatz
Instagram: www.instagram.com/donnyschatz/
Tony Stewart Racing:
Website: TonyStewartRacing.com
Facebook: www.facebook.com/TonyStewartRacing
Twitter: www.twitter.com/TonyStewart_Rcg
Instagram: www.instagram.com/tonystewart_rcg/
————————
Contact:
Mike Spieker
SpiekerPromotions.com
Photo Credit: Speedway Shots