FARGO, N.D. (April 26, 2021) – The Carquest / Ford Performance No. 15 team had a solid weekend during the World of Outlaws Sprint Car Series' highly-anticipated return to the high-banks of Bristol Motor Speedway.
Donny Schatz raced to a pair of top five finishes, including a runner-up finish on Sunday afternoon's make-up event from Saturday evening's rainout.
A less than ideal start to Friday's main event put Schatz back to fifth from the third starting position as the field took the green flag. Schatz battled back, however, moving by Carson Macedo and Paul McMahan to regain the third spot by the halfway point. From there, Schatz looked to move into second as he reeled in the No. 15H of Sam Hafertepe Jr.
Just as he was about to pull to the inside of Hafertepe Jr., a lapped car broke Schatz's momentum and cost him a spot to Aaron Reutzel.
A restart with five to go also cost Schatz a position, but he was able to bring the Ford-powered J&J home in the fifth position, collecting his seventh top five of the season.
With Saturday night's event being postponed to Sunday due to rain, that meant the World of Outlaws Bristol Throwdown would conclude under the afternoon sun. Track record speeds were seen early on, but the track dried off and became racy for the 25-lap feature.
Just as he did the night before, Schatz started inside row three with McMahan to his outside. Schatz rode in the third position early on before becoming a contender for the win with under eight laps to go.
With the lead duo of David Gravel and Logan Schuchart mired in lapped traffic, that opened the door for Schatz. The 10-time series champion found an opening and drove under Schuchart for second on the final lap just before the driver of the No. 1S slowed on the backstretch to bring out the caution.
After a green-white-checkered finish, Schatz took the checkers in the second position behind Gravel.
"We had good speed this weekend. (The car) is just really inconsistent as to what happens every time there is a yellow," said Schatz after Sunday's race. "The Carquest guys are doing an awesome job. I guess it's just the nature of the beast. It's a lot harder to climb out of that hole than a guy thinks. I think we were a third-place car. We had a chance to contend for a while but we ended up second, so we'll take it."
Schatz currently sits seventh in the point standings ahead of this weekend's tripleheader with the World of Outlaws. The action starts this Thursday at Jacksonville Speedway (IL), followed by a pair of events at the newly resurrected I-70 Speedway in Odessa, Missouri on Friday and Saturday.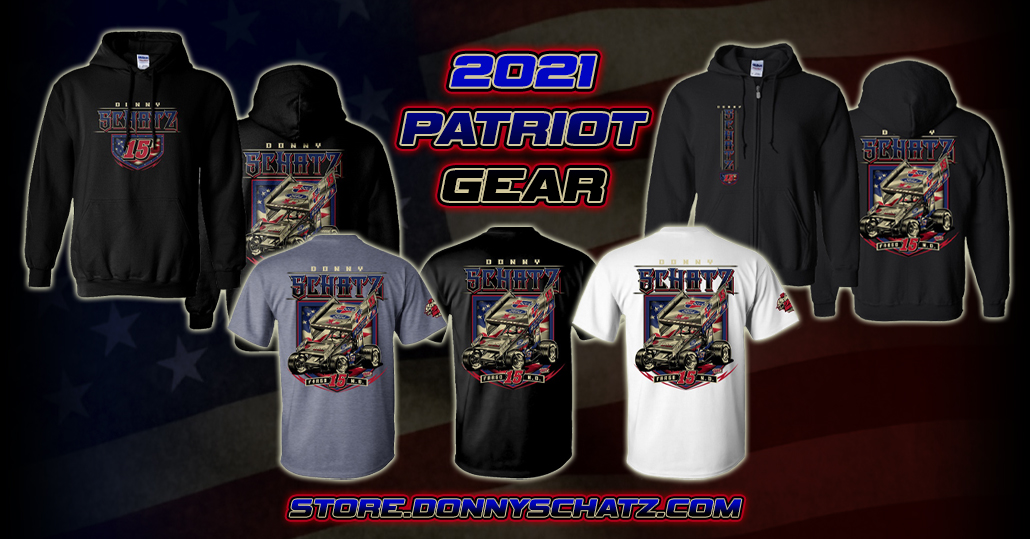 Schatz and the entire Tony Stewart/Curb-Agajanian Racing team would like to thank all of their great partners for their continued support!
Carquest Auto Parts, Curb Records, Ford Performance, Sage Fruit, Digital Ally, Mobil 1, Absolute Automation & Security, Rush Truck Centers, Advance Auto Parts,Hunt Brothers Pizza, J&J Auto Racing.
Schatz's Statbook:
2021 Sprint Car Results
Races: 23
Wins: 2
Top Fives: 13
Top Tens: 17
2021 World of Outlaws Results:
Races: 15
Wins: 0
Top Fives: 8
Top Tens: 9
STAY CONNECTED:
Website: DonnySchatz.com
Store: Store.DonnySchatz.com
Facebook: www.facebook.com/DonnySchatz15/
Twitter: www.twitter.com/DonnySchatz
Instagram: www.instagram.com/donnyschatz/
————————
Contact:
Mike Spieker
SpiekerPromotions.com
Photo Credit: Speedway Shots