FARGO, N.D. (August 24, 2021) – Coming off a strong runner-up finish at the Knoxville Nationals the week prior, Donny Schatz and the Tony Stewart / Curb-Agajanian Racing team were looking to keep that momentum going as the World of Outlaws rolled into Schatz's home state of North Dakota.
After Friday night's event at River Cities Speedway in Grand Forks was postponed due to rain, Saturday's event at Red River Valley Speedway in West Fargo was up first.
Schatz showed speed all night, timing in fourth quick and cruising to a heat race win to earn a spot in the DIRTVision Fast Pass Dash.
Starting fourth on the grid for the 30-lap feature, Schatz moved by Gio Scelzi early on to take over third before driving by David Gravel on lap 11 to move into the runner-up position.
Schatz quickly went to work erasing Logan Schuchart's two-second lead as the 10-time champion searched every inch of the three-eighths mile oval amid lapped traffic.
Schatz got a big run down the back straightaway with nine laps to go to reel in Schuchart. Schatz went to the top side of the speedway in turns three and four and made a daring three-wide pass for the lead with lapped traffic to take the point exiting the corner.
The move brought the hometown crowd to its feet.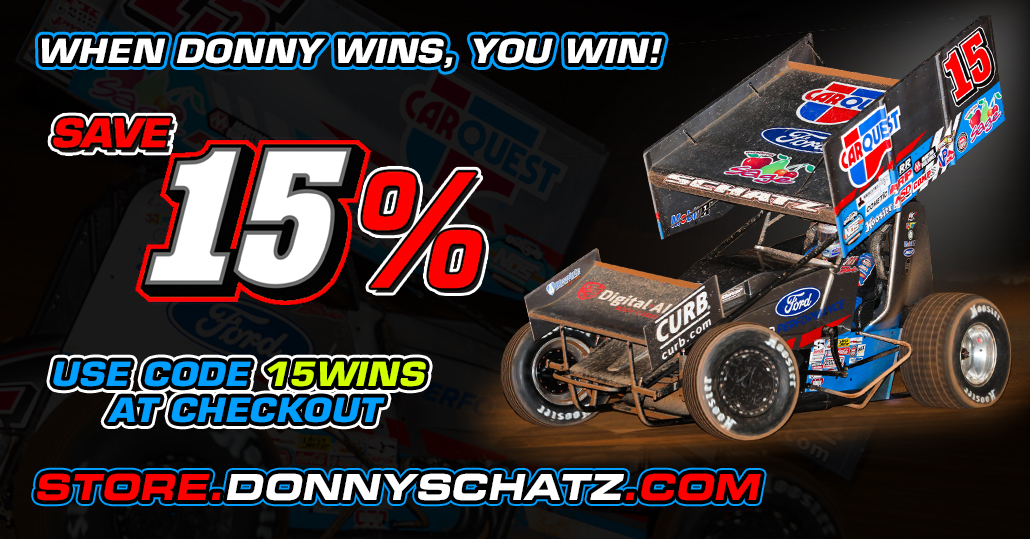 The driver of the Carquest / Ford Performance No. 15 immediately raced out to a seven car length lead over Schuchart and did so again on a restart with six to go.
Schatz cruised to the checkered flag; his second of the season, the 301st World of Outlaws win of his career, and his sixth World of Outlaws win at his home track.
"Winning at home is big, and it's important," Schatz said to the huge crowd in attendance on Saturday. "I mean, look at this crowd. You guys are incredible. It's cliche, but I can't thank you guys enough for the support, it means a lot to me. I'm 25 years into this deal, and I'm feeling better every day. I don't know that I have another 25, but I know that I've still got a lot left in me.
"We haven't had the greatest year, but we're past 300, we're onto the 301, and now we want 302," Schatz continued. "We're hitting on all cylinders right now. This is a new Ford powerplant under the hood. Things have been way better with this. It's a lot easier for me to drive, and we can do the things that we couldn't earlier this year. Hats off to Ford Performance, and every single one of our partners for sticking with us. We've lacked speed at the end of the races, and these past few weeks there's been a huge difference. I'm feeling really good going forward."
The I-29 Outlaws swing continued Sunday at Huset's Speedway near Sioux Falls, S.D. An early evening rain shower doused the track, pushing back the start time and making for a fast and tacky racing surface all night long.
Despite timing in 15th quick, Schatz made up for that with a bold move in the first lap of his heat to move from fourth to second to secure a spot in the dash for the second consecutive night. Schatz moved up two positions in the feature, advancing from sixth to fourth.
On Wednesday, the Outlaws will head back to River Cities Speedway for their third attempt to complete a show at The Bullring this season.
Schatz currently sits fourth in the standings, 238 points behind leader Brad Sweet.
Schatz and the entire Tony Stewart/Curb-Agajanian Racing team would like to thank all of their great partners for their continued support!
Carquest Auto Parts, Curb Records, Ford Performance, Sage Fruit, Digital Ally, Mobil 1, Absolute Automation & Security, Rush Truck Centers, Advance Auto Parts, Hunt Brothers Pizza, J&J Auto Racing.
Schatz's Statbook
2021 World of Outlaws Results:
Races: 55
Wins: 2
Top Fives: 29
Top Tens: 41
STAY CONNECTED:
Website: DonnySchatz.com
Store: Store.DonnySchatz.com
Facebook: www.facebook.com/DonnySchatz15/
Twitter: www.twitter.com/DonnySchatz
Instagram: www.instagram.com/donnyschatz/
————————
Contact:
Mike Spieker
SpiekerPromotions.com