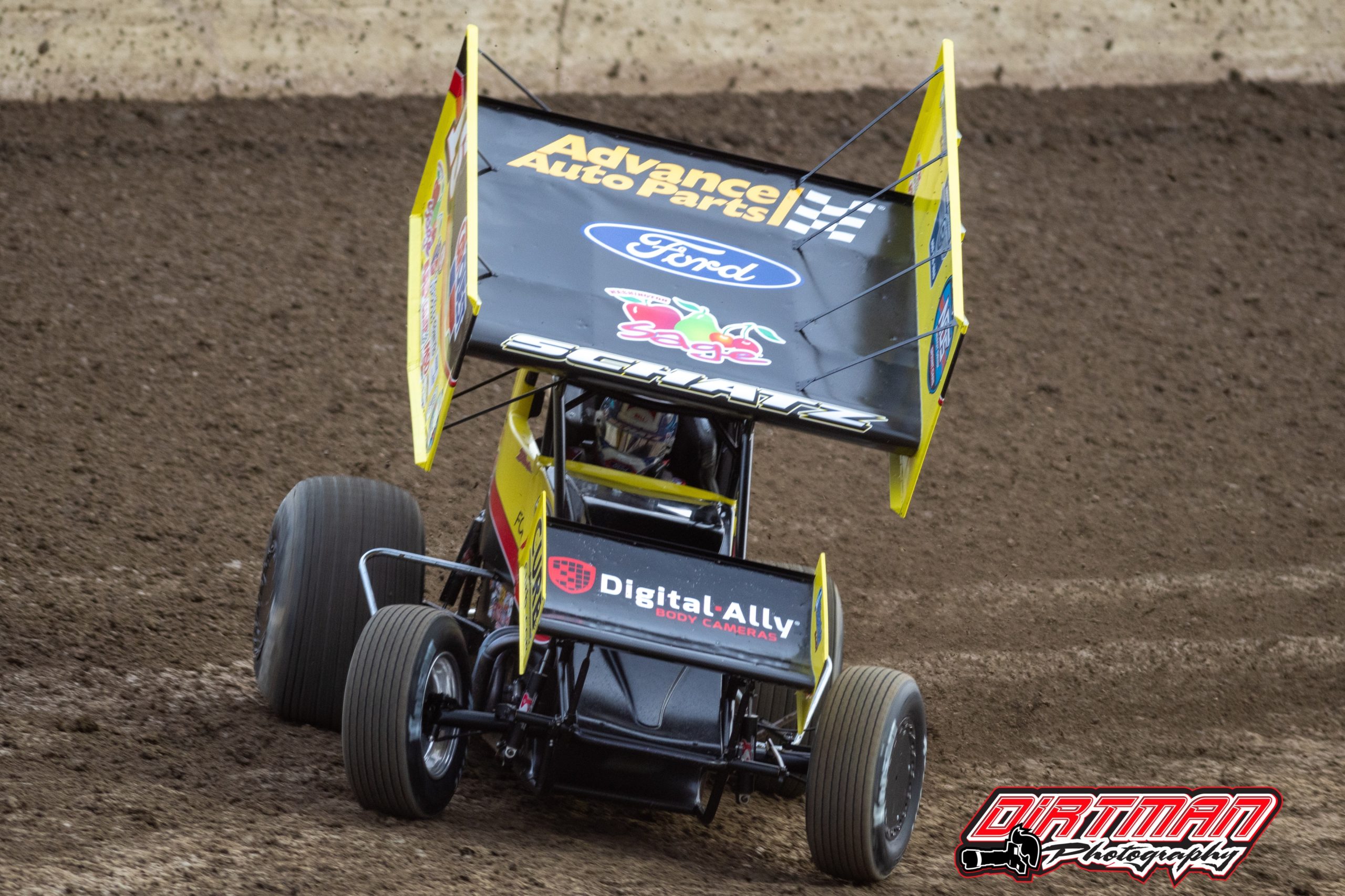 FARGO, N.D. (April 18, 2022) – Mother Nature washed out another night of racing for the World of Outlaws NOS Energy Drink Sprint Car Series as Friday night's event at Federated Auto Parts Raceway at I-55 was canceled due to rain. However, I-55 and World of Outlaws officials worked hard to get the track surface prepped and ready for action on Saturday night.
The Carquest / Ford Performance No. 15 showed speed all night long, timing in second quick and punching a ticket into the dash by way of a second-place finish in heat two.
A tough draw for the dash resulted in Schatz lining up sixth on the grid for the main event.
Tricky track conditions due to the heavy rain leading up to Saturday's event made for a wild and treacherous feature. Unlike several of the drivers throughout the night, Schatz was able to keep his J&J upright and on all fours throughout the 35 lapper to bring home a ninth-place finish.
"It isn't what we wanted," said Schatz. "But sometimes you just have to get what the track and the car will give you. On Saturday, I guess that was ninth. This Carquest team will keep digging. I feel like we are on the right track and hope to be back in victory lane soon."
Schatz's next crack at collecting win number two of the season will come this Friday at Tri-City Speedway in Granite City, Illinois, and Saturday at Tri-State Speedway in Haubstadt, Indiana.
Schatz is the most recent World of Outlaws winner at Tri-City Speedway. That win came in 2008 when Schatz started second and led all 35 laps en route to what was his fifth career win at Tony Stewart Racing.
Despite not visiting victory lane yet at Tri-State, Schatz has had a number of strong runs there. He has collected six top five finishes and 14 top 10s in 24 races, dating back to his rookie season in 1997. His best finish to date at the speedway came in 2008 when he finished 3rd.
Schatz is currently sixth in the World of Outlaws standings, just two points behind fifth-place runner James McFadden.
Schatz and the entire Tony Stewart/Curb-Agajanian Racing team would like to thank all of their great partners for their continued support!
Carquest Auto Parts, Curb Records, Ford Performance, Sage Fruit, Digital Ally, Mobil 1, Absolute Automation & Security, Rush Truck Centers, Advance Auto Parts, Hunt Brothers Pizza, J&J Auto Racing.
Schatz's Statbook
2022 World of Outlaws Results:
Races: 14
Wins: 1
Top Fives: 4
Top Tens: 10
Previous results at Tri-City Speedway:
2008 – 1st on June 8 (started 2nd; led all 35 laps)
2007 – 3rd on June 14 (started 6th)
2005 – 6th on May 7
2004 – 9th on May 15 (started 12th); 22nd on October 9
2003 – 3rd on June 22 (started 12th)
2002 – 11th on May 11 (started 19th)
2001 – 7th on May 12 (started 13th)
2000 – 2nd on April 15
1999 – 4th on May 15; 7th on June 16
1998 – 11th on May 9; 10th on June 20
1997 – 9th on May 10; 5th on June 21
1996 – 15th on July 13
Previous Results at Tri-State Speedway:
2021 – 16th on April 10 (started 21st)
2020 – 11th on June 19 (started 13th); 16th on June 20 (started 14th)
2019 – 13th on Oct. 13 (started 5th)
2018 – 5th on May 13 (started 12th)
2017 – 11th on May 14 (started 10th)
2016 – 4th on May 14 (started 3rd)
2015 – 4th on May 3 (started 20th)
2014 – 6th on May 10 (started 22nd)
2013 – 11th on April 20 (started 24th)
2012 – 9th on April 21 (started 6th)
2011 – 11th on May 30 (started 9th)
2010 – 4th on Oct. 16 (started 2nd; led 21 laps)
2009 – 22nd on June 25 (started 14th)
2008 – 3rd on July 6 (started 6th)
2007 – 6th on April 21 (started 18th)
2006 – 10th on April 15
2005 – 8th on April 16
2004 – 4th on Oct. 8
1999 – 6th on May 16
1998 – 14th on May 10; 10th on June 21
1997 – 6th on May 11; 11th on June 22
STAY CONNECTED:
Website: DonnySchatz.com
Store: Store.DonnySchatz.com
Facebook: www.facebook.com/DonnySchatz15/
Twitter: www.twitter.com/DonnySchatz
Instagram: www.instagram.com/donnyschatz/
————————
Contact:
Mike Spieker
SpiekerPromotions.com
Photo by Dirtman Photography.