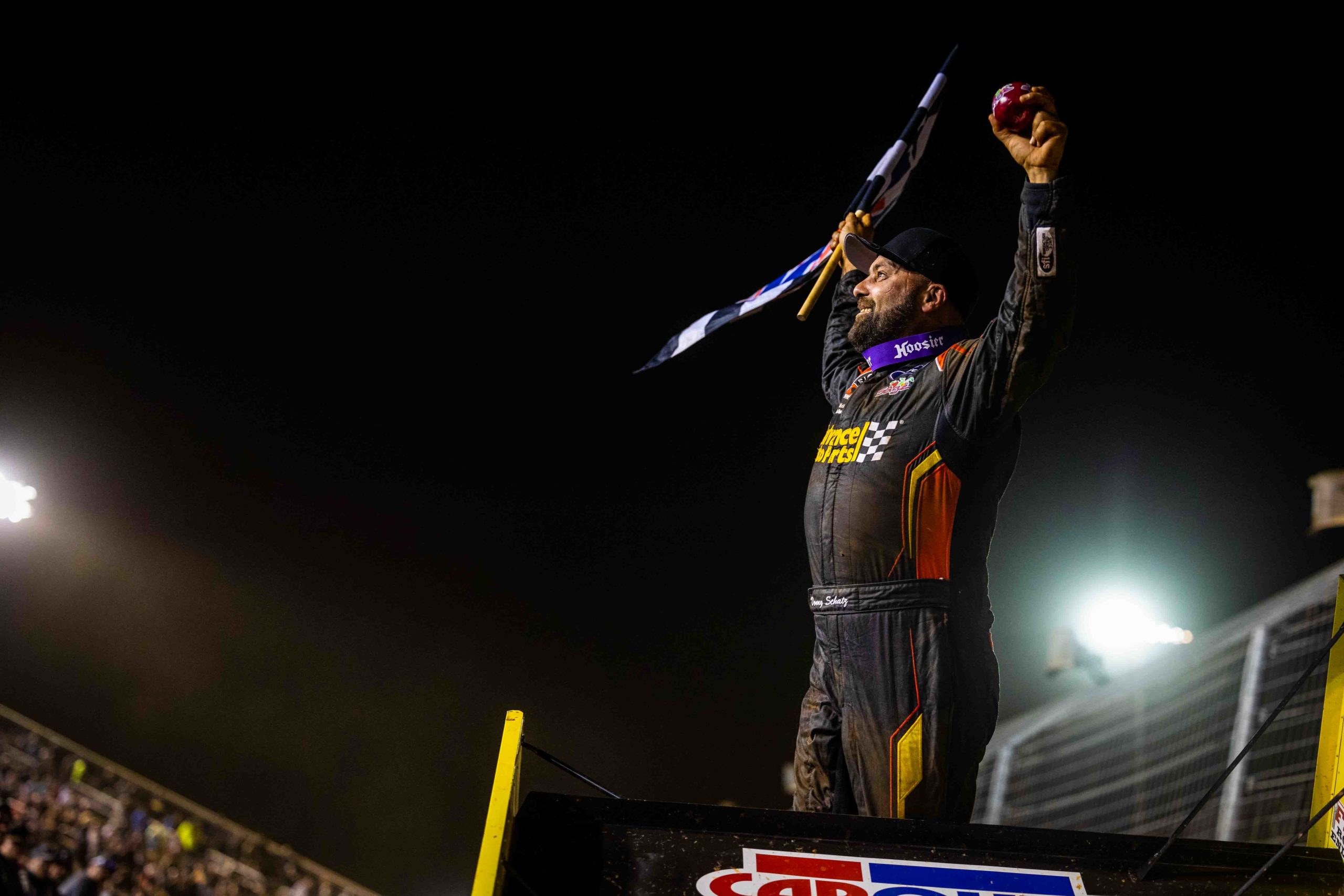 CHARLOTTE, N.C. (November 7, 2022) – Donny Schatz bookended the 2022 World of Outlaws NOS Energy Drink Sprint Car Series season with a win on opening night at Volusia Speedway Park back in February and on Saturday night at the season finale at the Dirt Track at Charlotte.
Schatz started third for the 30-lap feature and immediately took over the second position from outside front row starter Gio Scelzi on the opening lap and went on to track down Brad Sweet to take the lead on lap 11.
"It was really a game of chess early on. Brad set a good pace on the top early, and I knew Gio would be good everywhere, so wherever Brad went, I went. But when we got to traffic, I was forced to move. When I moved, that's what got us the lead," said Schatz after the race.
After taking the lead on the low side of the speedway, Schatz stayed down low and was the only car in the top 10 running in that groove.
"I just kind of stayed down there and some of the cars we were lapping, I was like 'wow, there is some really good iron we're going by here'. As long as you feel like you've got all four tires stuck, you're a fool not to stay in that groove," Schatz explained.
Schatz checked out in the closing stages of the race, opening up a four-second lead over Sheldon Haudenschild in second. However, a caution with two to go erased his advantage and put the field on his tail tank for the restart. With tire wear being an issue all weekend, the Outlaws threw both the green and the white flag on the restart for a one-lap dash to the checkers.
Schatz got a good jump off of turn four and ran the cushion in turns one and two. He nearly had a full straightaway lead over Haudenschild heading into turn three as he cruised to the checkers.
"Anything could have happened on that restart, so you're better off just carrying as much speed and momentum around the track as you can. At that point, you'll use whatever tire you've got left, whatever motor you've got left, whatever you've got to do to come around and get this trophy."
The win for Schatz was his fifth of the season, 307th of his career and 14th win at the Dirt Track at Charlotte.
In victory lane, Schatz noted that a recent test session paid dividends at the World Finals.
"These Carquest guys… it's just incredible what they have done the last couple of weeks. The results haven't really been showing it, but they've been digging. We went and tested and found a few things and got back to the feel we used to have. Obviously, that showed here this weekend. Hats off to them," he said.
Schatz's 26th year with the Outlaws concluded with those five feature wins, including his 11th Knoxville Nationals title, 28 top fives and 55 top tens.
"Man, I'm glad the season is over, even after a weekend like we just had," Schatz continued in victory lane. "Everyone needs a break. These teams get beat up and down the road. Hopefully, we can carry this momentum into the offseason, continue to work to get better throughout the winter months, and come back to race for a championship next year."
Schatz finish fourth in the standings as Brad Sweet captured his fourth consecutive title.
"Congrats to Brad (Sweet) and his team. I can tell you, it's a great, satisfying feeling to win a championship," said Schatz. "We're going to make it hard on them next year."
Schatz and the entire Tony Stewart/Curb-Agajanian Racing team would like to thank all of their great partners for their continued support!
Carquest Auto Parts, Curb Records, Ford Performance, Sage Fruit, Digital Ally, Mobil 1, Absolute Automation & Security, Rush Truck Centers, Advance Auto Parts, Hunt Brothers Pizza, J&J Auto Racing.
Schatz's Statbook
2022 World of Outlaws Results:
Races: 69
Wins: 5
Top Fives: 28
Top Tens: 55
STAY CONNECTED:
Website: DonnySchatz.com
Store: Store.DonnySchatz.com
Facebook: www.facebook.com/DonnySchatz15/
Twitter: www.twitter.com/DonnySchatz
Instagram: www.instagram.com/donnyschatz/
YouTube: www.youtube.com/@donnyschatz15
TikTok: www.tiktok.com/@donnyschatz