FARGO, N.D. (March 20, 2023) – After a stop in Pennsylvania over the weekend, Donny Schatz will follow the World of Outlaws Sprint Car Series south to Alabama and Mississippi for this weekend's events. The series will head to the Talladega Short Track on Friday night, located just three minutes from NASCAR's Talladega Super Speedway in Eastaboga, Alabama.
The World of Outlaws have only been to the one-third mile oval once in the last 20 years with their most recent visit coming in 2011. Schatz started and finished second that night to David Gravel, in what was Gravel's first career World of Outlaws win.
In 11 career starts at the speedway, Schatz has six top fives, eight top tens and has led 49 laps. His best finish of second has come twice – in 2011 and 2002.
On Saturday, the Greatest Show on Dirt heads to Magnolia Motor Speedway in Columbus, Mississippi. This will be just the second-ever visit to the three-eighths mile track. Schatz finished fourth at the speedway in 2021.
Just one of the scheduled two events in Pennsylvania was completed over the weekend. Friday's event at Williams Grove Speedway was canceled due to rain.
On Saturday at Lincoln Speedway, Schatz showed speed early on in hot laps, timing in third quick, but came in 22nd quick in Group 1 during qualifying.
It didn't get any better for Schatz in the heat race as he was collected in a wreck, not of his doing, and was forced to the work area. The Advance Auto Parts crew got him back out on the track for the restart, but Schatz ultimately found himself buried in the lineup for the Last Chance Showdown.
Despite having to use a World of Outlaws provisional, between action during the Last Chance Showdown and the A-main, Schatz passed 15 cars.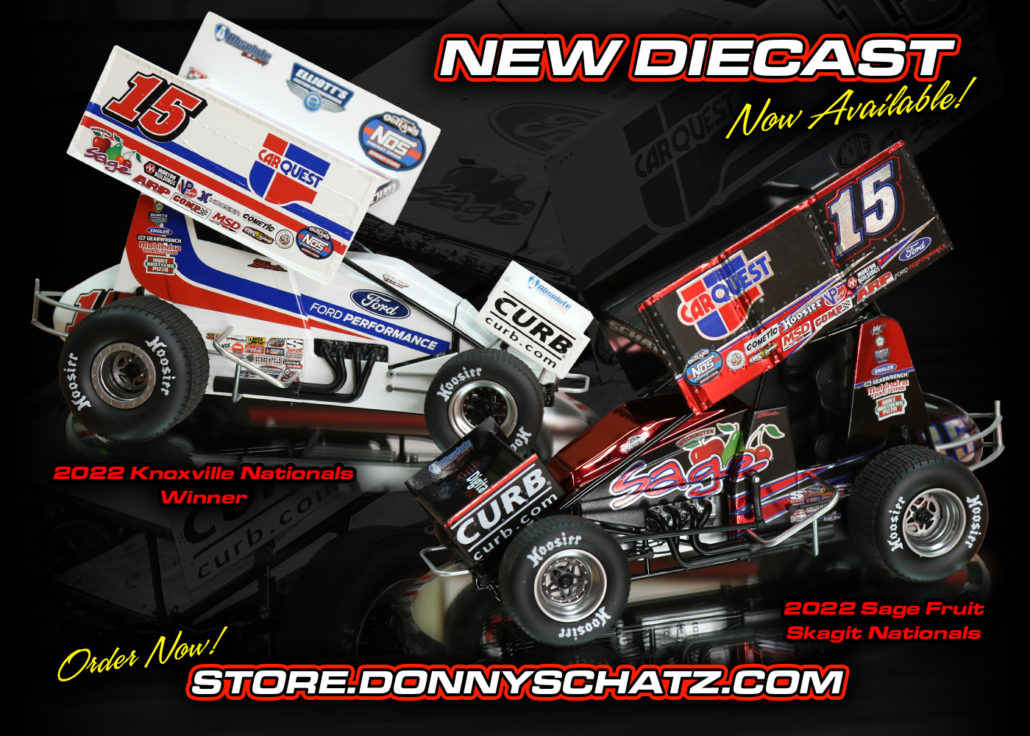 He crossed the line 20th in the A-main and currently sits ninth in the point standings, 92 markers out of the lead.
Schatz and the entire Tony Stewart/Curb-Agajanian Racing team would like to thank all of their great partners for their continued support!
Carquest Auto Parts, Advance Auto Parts, Curb Records, Ford Performance, Sage Fruit, Mobil 1, Absolute Automation & Security, Nivel Parts & Manufacturing, Hunt Brothers Pizza, J&J Auto Racing, Elliott's Custom Trailers & Carts
2023 World of Outlaws Stats:
Races: 6
Wins: 0
Top Fives: 2
Top Tens: 3
Previous World of Outlaws Results at Talladega Short Track:
2011 – 2nd on October 22 (started 2nd)
2004 – 7th on April 24 (started 5th)
2003 – 12th on April 5 (started 5th); 4th on Sept. 27 (started 7th)
2002 – 6th on April 19 (started 8th); 2nd on April 20 (started 4th; led 26 laps); 3rd on October 5 (started 3rd; led 23 laps)
2001 – 4th on April 20 (started 8th); 14th on April 21 (started 5th); 8th on Oct. 19 (started 9th); 16th on October 20 (started 20th)
Previous World of Outlaws Results at Magnolia Motor Speedway:
2021: 4th on March 12 (started 6th)